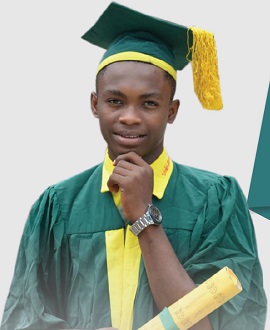 The ACADEMIC STAR OF THE YEAR is a prestigious award given to the best graduating student of every graduating set. A lot of factors are often put into consideration by a selected impartial panel of judges in making this cardinal selection. Factors like the awardee's performance in internal and external examinations, clean slate as per examination malpractices, overall comportment during classes, etc.
This year's selection was, as usual, herculean but at the end of the exercise, students and staff of LOGISS gave a standing ovation to the Awardee, a gesture we are sure you will do when you are done with reading this interview. In an exclusive interview with LOGISS PRESS, this year's awardee bared his mind on the importance of the award to him, the invaluable role LOGISS played in his life, and many more. So, we implore you to relax, read through to the end and you will definitely not regret it. It is a solemn promise!
LOGISS PRESS: Can we meet our Academic Star for 2018/2019?
Academic Star: My name is Udodirim Uchechukwu stGods will. I was born on 31 December, 2002 to the family of Pastor and Mrs. Udodirim Eke in Aba Town, Abia State.
LOGISS PRESS: You said that your father is a pastor. In which denomination is he a pastor?
Academic Star: My father is a pastor in the Redeemed Christian Church of God.
LOGISS PRESS: Tell us briefly about your academic foundation.
Academic Star: I attended Living Word Nursery and Primary School in Aba, Abia State. From there, I proceeded to Logos International Secondary School in Awo-Omamma, Imo State in the year 2013. I am immensely grateful to God for this much.
LOGISS PRESS: Can you explain how you felt when you got the soothing news that you emerged the Academic Star of this Academic Year?
Academic Star: Elton is an understatement. I was excited to heaven and back to earth. Honestly speaking, when I read about the academic star of last year, I did not feel I would become the academic star of this year. Not even when my parents used her to challenge me did I ever think I could make it. I just prayed, worked hard, and studied my books with the singular intention of excelling in my academics. But to God be the glory – by His grace, I emerged the Academic Star of the Year.
LOGISS PRESS: You have been judged the Academic Star based on your performances in internal and external examinations (JAMB to be precise). Can you explain the factors that inspired you to do so well academically?
Academic Star: To date, I hate being a mediocre and to avoid being a mediocre, I have learnt to struggle and work hard while always pung God first in all I do. I was equally inspired by numerous people but the major people that contributed so much to place me where I am presently are my parents. In my primary school days, I was an average student. When my mother saw that I had an interest in reading novels, she said that I must be a star. Since then, my mother began to brush me up and encourage me whenever I stumbled. She bought emotional and academic books for me. To push me up the ladder of academic excellence, my parents also promised and gave me different gis whenever I excelled. My father on his part, made me put God first in anything I do because without him, I can do nothing.
Also, my teachers played very important roles in my life by way of encouraging me, teaching me, praying for me and making reference to different personalities that excelled in life. I made sure I listened attentively to my teachers whenever they taught me. I made my books my friends by reading whenever I had the opportunity. I used Philippians 4:13 as my watchword: "I can do all things through Christ who strengtheneth me."
LOGISS PRESS: From your experience as a student in LOGISS, what impact would you say the school has made in your life? Has the school affected you spiritually, morally, and academically?
Academic Star: I have been in LOGISS right from JSS1, making my stay here a total of six years. I shall forever be grateful to LOGISS and to my parents who ensured my stay here was possible. I gained a lot of spiritually from the programmes that were organized in the school. They boost my spiritual life and lied me to a higher level. I was taught to reverence God and to be serious in everything I did. Although my father is a pastor, I still did not know God as much as I do now until I got to LOGISS.
LOGISS has a zero-tolerance for examination malpractice and in order to pass, one needs to read very well. I had to increase my reading ability and me in order to reach my goal of being an excellent student. I had to forfeit pleasure and sleep because it was necessary. I thank God that today, I am leaving LOGISS a fulfilled individual with the best legacies that LOGISS has to offer: Academic Excellence and Godliness of the Youth.
LOGISS PRESS: What is your future ambition?
Academic Star: I desire to be a successful Electronics and Computer Engineer in the future. I pray that I have some inventions to my name.
LOGISS PRESS: Can you name some of your role models?
Academic Star: My first role-model is Our Lord Jesus Christ who had it all but was humble nonetheless. My parents are my second role-models because they taught me so much and have sacrificed a lot to make me get the best they could offer me in terms of education. I do not want their labour to be in vain. Miss Polycarp Onyinyechi, the immediate past LOGISS Academic Star was also my role-model. I admired her manner of reading. She did not indulge herself in frivolities when she should be reading like some did. Her performances in the examinations were a big challenge to me. Her achievements boosted my determination to study harder. I always see a picture of her results whenever I tried to relax and get charged to put in extra efforts.
LOGISS PRESS: In a few words, what is your advice to your juniors in LOGISS?
Academic Star: I advise them to always put God first in everything they do because, with God, all things are possible. They should be up and doing and never relax on their oars. Even if they want to have fun, they should make it short and then go back to their studies – for which they are primarily here. If they could take quality me to read their books, put God first and read the Bible, the sky would be their stepping stone.
LOGISS PRESS: What are your final parting words?
Academic Star: I am immensely grateful to my parents and teachers who have always been there for me. Also, I want to say a big thank you to my friends in LOGISS who stood by me through the thin and thick. I am indeed grateful. I say a big THANK YOU to you all and I promise not to disappoint anyone of you.
LOGISS PRESS: It's been nice talking with you.
Academic Star: Ma, same here.