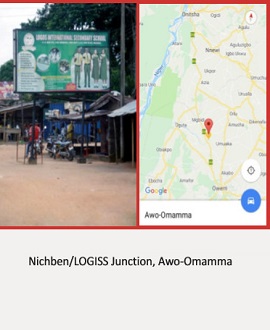 Awo-Omamma situated in the North East of Niger Delta is an oil-rich town on the bank of Njaba River in Nigeria's South East, Imo State. It is a potential tourism centre due to its species of wildlife and green vegetation.
Location: Awo-Omamma is located in Oru East Local Government Area of Imo State, Nigeria. It is about 25 kilometers from Owerri and 62.5 kilometers from Onitsha. It covers about 89.2 square kilometers and lies in the tropical rainforest with hot and rainy seasons.
It is bounded in the North by Amiri, Mgbidi, and Otulu.
In the East, it shares boundaries with Okwudor in Njaba LGA. In the West by Akabo, Awa, Oguta all in Oguta LGA, while in the South, by Eziama Obiato and Njaba river. It is a Christian Community with many factories and Hotels for your luxury. It is fast developing into a metropolitan area and an economic hub.
Direction to Awo-Omamma: Students coming to Awo from Northern and Western Nigeria should locate Onitsha through River Niger Bridge and head toward Onitsha – Owerri Express Road, then alight at Nichben/LOGISS junction.
Students from the Eastern and Southern parts of Nigeria (or Sam Mbakwe International Cargo Airport, Owerri) should locate Owerri town and move towards a popular spot called Control Post. From there, they will hit Owerri – Onitsha Express Road and alight at Nichben/LOGISS junction.