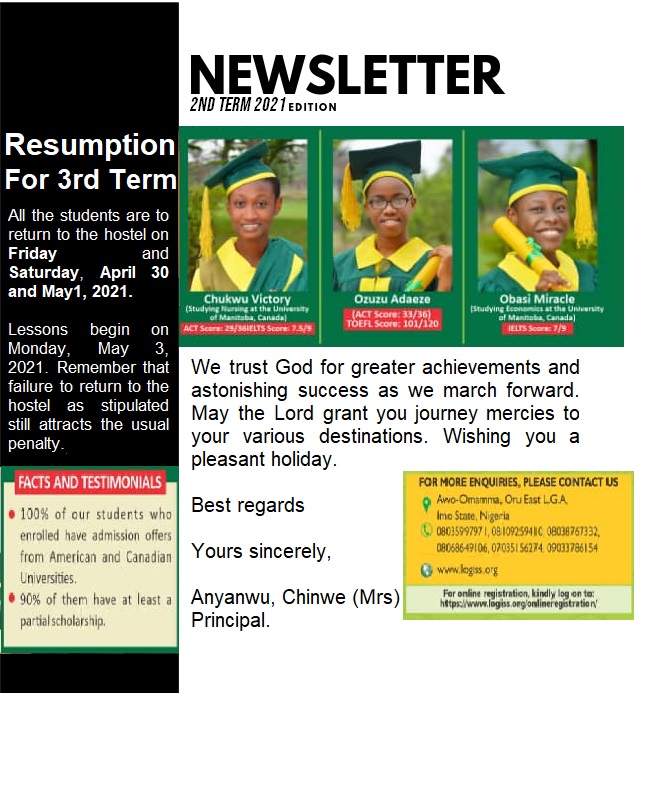 NEWSLETTER FOR 2ND TERM END OF 2020/2021 ACADEMIC YEAR
Dear Parents/Guardians,
We thank God Almighty from whom all blessings flow, who alone has made it possible for us to see the end of second term 2020/2021 academic year. Our appreciation goes to our parents, staff, and students for their unflinching supports throughout the term.
The term began on a good note and with God on our side, we have successfully gone through it "To God be the glory"
BELOW ARE IMPORTANT DATES AND INFORMATION TO NOTE:
 Resumption For 3rd Term:
All the students are to return to the hostel on Friday and Saturday, April 30 and May 1, 2021. Lessons begin on Monday, May 3, 2021. Remember that failure to return to the hostel as stipulated still attracts the usual penalty.
Mid-Term Break:
Mid-term break is compulsory for all students. However, parents who want their children to stay back at school shall pay a token of ten thousand Naira (N10,000.00) only for their upkeep.
Mid-term break for the 3rd term begins on Saturday, June 12, to Friday, June 18, 2021. Students shall return to the hostel on Saturday, June 19, 2020.
A complete version of this newsletter which contains other very important information is available on www.logiss.org/newsletter
For further inquiries in reference to this newsletter, please call 08109259410