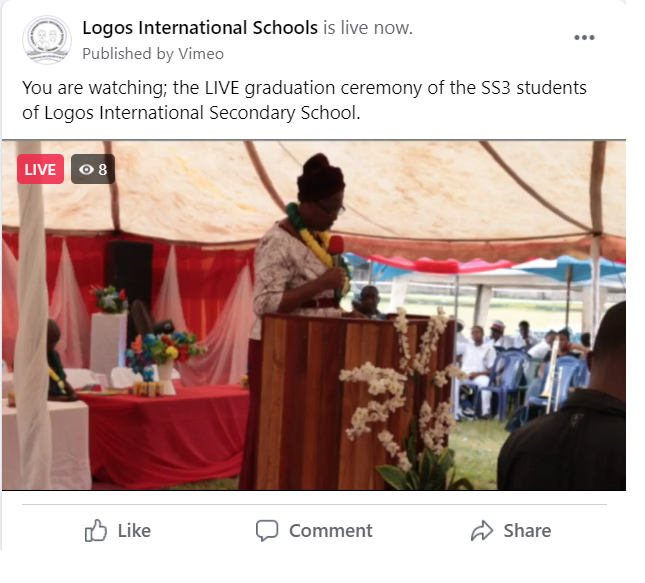 THIS WELCOME ADDRESS WAS PRESENTED TODAY, SATURDAY, OCTOBER 2, 2021, BY THE PRINCIPAL, LOGOS INTERNATIONAL SECONDARY SCHOOL, AWO-OMAMMA, ON THE OCCASION OF HER 23RD GRADUATION AND END OF YEAR CEREMONY OF THE 2020/2021 ACADEMIC YEAR.
The Divisional Police Officer, Awo-Omamma, Zonal Coordinator, National Examinations Council, Owerri; General Superintendent, The Watchman Catholic Charismatic Renewal Movement (WCCRM), and the Chairman, Board of Governors, LOGISS, Diocesan Pastors of the Watchman, The Board of Governors, Logos International Secondary School, The Chairman and Executive Members of the Parents-Teachers Association of Logos International Secondary School, The Chairman of today's occasion, Pastor Idamunya, Our Spiritual Guest Minister, Pastor Amos Yongo, Our Guest Lecturer, Pastor Doctor Ralphael Ngwoke, First Bank Branch Manager Present, The President and Executive Members of LOGISS Alumni Association, Members of the Press, Distinguished Guests, Members of Staff, Graduating Students, Students and Distinguished Ladies and Gentlemen.
God has once again given us this unique opportunity to welcome you all to yet another epochal event in the annals of our God-given institution. It is with this spiritual affection that we express our modest welcome to you, as you witness the conclusion of the mandatory six years of secondary education and graduation ceremony of the class of 2020/2021, which marks the end of the academic year today.
We consider our position as a tool in the hands of God to accomplish his ordained work of teaching, directing, guiding and counselling our children, on the choices to make and the path to follow as they struggle to cope and adapt to situations in their lives. We are continually grateful to our commendable vision-bearer the Watchman Catholic Charismatic Renewal Movement. The twin task of academic excellence and godliness of the youth for which this school was established has remained challenging. However, as truth shall spring out of the earth and righteousness shall look down from heaven (Ps 85:11) in the same way; this challenge has met its equal in the practice of learning and conduct here in Logos International Secondary School.
To our esteemed, lovely and understanding parents, friends and well-wishers, we thank you for identifying with us at all times. We thank you especially for your convictions to buy into the vision of our unique school. The task of achieving this vision is the mission and life of this school and we will remain ever grateful to you for your prompt participation in the process of achieving these God-ordained destinations in the active life of your children and wards. We welcome you with all our hearts.
And to you, our graduating students, today is your day. As we look around and watch your faces beaming with smiles, satisfaction and enthusiasm, we are happy that you made it. While it lasted here, it was a mixed bag of feelings. Feelings of inadequacies, of not being sure of the right step to put forward, and even of being overwhelmed with the circumstances of your mission. In this uncertain context, you persevered with all your faith in God, you renewed your strength. You obeyed the voice of God, listened to your teachers, attended to your lessons and assignments, and at the end, you are proud to say to yourselves – you came, you saw and you conquered. We say big congratulations to you because you have shown yourselves approved by going through this secondary education process. Essentially, we counsel you to hold fast that which you have acquired from LOGISS namely; all the Godly characters, the academic lessons, good friends and especially, the praxis you have developed here in Logos International Secondary School.
The work of grooming you is an impetus march to achieving the ordained vision and mission of the founding Fathers of this school as enunciated in the motto of our school, "Academic Excellence and Godliness of the youth". The Watchman Catholic Charismatic Renewal Movement's Education Project believes that this goal is within our reach. Right from the inception of this secondary school in 1994, this singular theme has reverberated in the pedagogical practices of the school. Against all odds, setbacks and inadequacies, but with our implicit and solemn faith in God, we are pursuing this vision for a resounding success. Those who have followed the trends of excellent performances in academics and character of the students of this school over the years will readily affirm that our track records of performance are in a class of its own, in the public domain among our contemporaries.
It is not just challenging to affirm this vision in words; indeed, it is more challenging to work out this vision realistically in practice. In any case, our determination to succeed in our educational praxis has consistently been blessed by God. Our ex-students, wherever they find themselves, in any professional endeavour in this world, have demonstrated the quality of training they received here in LOGISS.
The content of our pedagogy of learning is quite integrated. Anchored on Christian foundations, it consists of active teaching and learning, active preparatory studies also known as prep, the study of the Package Accelerated Christian Education (PACE), progressive continuous assessment exercises and coherent internal examinations. In addition to these, we study the Curriculum, for International Examinations that guarantee the offer of admission into universities in the more advanced societies of the United States of America, Canada, the European Continent, Japan as well as China in the Asian continent. These international examinations include the American College Test (ACT), the Scholastic Aptitude Test (SAT), the Test of English as a Foreign Language (TOEFL) and the International English Language Testing System (IELTS) among others. These are the prerequisite conditions for students seeking admission into tertiary institutions of learning outside the shores of Nigeria.
Modesty will not permit us to proclaim our success in this novel venture of the school which is just three years old. Otherwise, we will be pleased to inform you that a good number of our students, who were candidates for these international examinations, were exposed to the course content. They successfully went through the courses and performed excellently in the examinations. A good number of them have since resumed their studies abroad, while many others are at various stages of concluding their admission and travel processes. It is important to point out that the growing need for studies abroad stems from the rot that has enveloped our national education system, and in fact the nation as a whole. We, therefore, make this earnest, clarion call to our esteemed parents to key into the advantages of our success story of studying abroad. You can do this by encouraging and enrolling your children and wards into this veritable scheme for success into tertiary institutions of learning.
The appeal to seek alternative university education abroad, for your children and wards, has become urgent. Any delay in this directive, may not be the best for the career development of your child/ward. We are conversant with the political, social and economic, situation under which these students studied here. We are familiar with the security situation in our society today. These ranges from the security of our health against coronavirus (covid-19) pandemic to the security of our lives against physical violence and death. These posed a whole lot of challenges within the year. These challenges affected our programmes enormously, especially in the unilateral closure, resumption, extension of the academic calendar and high cost. On this background, we would be safe to affirm that the class of 2020/2021 is a unique class indeed. Their uniqueness is demonstrated in their ability to persevere to the very end.
I will like at this juncture to commend some of our outgoing school prefects, who against all odds and challenges demonstrated a keen sense of responsibility and leadership, among their peers. Please endeavour to keep up this sense of duty and responsibility in all your endeavours in life. Let me again; modestly inform you that your children are those who performed creditably well in the just-released Unified Tertiary Institutions Matriculation Examination result, organized by the Joint Admissions and Matriculation Board (JAMB). Many of them had scores of 297, 269,265,262,258,256,255,254,253,252,251, etc.
This is against the backdrop of the generally poor performance, which made the Joint Admission and Matriculation Board, to describe this year's performance as a calamity. The body is already tinkering with the idea of bending backwards to lower the cut-off marks for admission into our universities to below one hundred and fifty marks.
Let me also inform you that in keeping with our tradition of academic excellence on internal and external examinations, as well as, national and state academic competitions, your child, Miss Arinze Princess, was among all the students of LOGISS who sat for the UTME this year, made the highest score of two hundred and ninety-seven (297) out of the 400 marks in the exams. The same Miss Arinze Princess is a champion of this year's 23rd National Jets Competition for Secondary Schools in Nigeria, organized by the National Mathematical Centre, Abuja, under the auspices of the Federal Ministry of Education.
As you would have witnessed from our previous outings of this nature, the tradition of giving awards to our high flying students have come to stay. In view of this, some of our students who excelled in our internal examinations and morals will today be rewarded with various degrees of awards. The essence of the award is to recognize their efforts in the pursuit of academic excellence and godliness. These include their sleepless nights of reading, sacrifices, selfless services and pious lifestyle. The gesture will also encourage them to keep up with the performance. We are convinced that by so doing, we will be able to spur them to greater performance.
This award is for the overall best student of the year in the junior secondary school, the second best and the third. The same goes for the overall best in the senior secondary school, the second best and third, respectively. Beginning with junior secondary school, the overall best will go home with the prize of a full scholarship for the 2021/2022 academic year. The second overall best in the junior secondary school will go home with the prize of free tuition for two terms in the 2021/2022 school year; while the third position in the junior secondary school will go home with the prize of free tuition for one term in the 2021/2022 school year. In the senior secondary school, the best overall, the second best and the third-best will be rewarded in the same manner, respectively. The most God-fearing and morally sound student of the year will go home tuition-free for one term. Other awardees include the best, second best and third best of the most diligent, selfless, committed and disciplined staff members of the academic and non-academic departments of the school.
This welcome address will not be complete without an explicit and sincere appreciation of the presence of these honourable and distinguished ladies and gentlemen, who have had to abandon every other engagement today, and covered long distances to grace this occasion. These include the Divisional Police Officer of Awo Omamma Police Station, The Zonal Coordinator, National Examinations Council, Owerri. The Chairman, LOGISS PTA and his executive members. The President and Executive members of LOGISS Alumni Association. Members of the Press present and all other guests we have not been able to mention. Your presence indeed has added much colour to this ceremony. Thank you for coming.
Finally, our appreciations go to all members of staff for their selfless service. I am deeply indebted to the management staff namely; Mrs Martina Okoro, Mr Duru Thomas, Mr Iwu Chrysanthus, Mrs Felicia Anuna, Mrs Iwuoha Ngozi, Mr Ihejirika Kingsley, Mrs Chinekezi Virginia, Mr Anyanwu Alexander, Mr Onyeka Emenike. There are also those who are behind the stage who did marvelously well in our success story in their corners such Engr. Michael Ohanebo, Mr Augustine Esemonu, Engr. Michael Ihuocha, Mr Christian Ariwodo, etc. These men and women hazarded their lives, sacrificed their comforts to drive this vision to where we are today. We say a big thank you for all the sacrifices you have made in the success story of these students. Only God can reward you adequately. Let me take this time to reaffirm our unalloyed loyalty to our father and vision bearer, the General Superintendent of the Watchman Catholic Charismatic Renewal Movement and Chairman, Board of Governors, Logos International Secondary School, Pastor A. C. Ohanebo and our mother, Mummy Comfort Ohanebo, for their immense and manifest support and encouragement. The same goes to all members of the Board of Governors. We thank you all for providing this serene, enabling and beautiful environment for teaching and learning. We also appreciate our elders in the ministry, the Diocesan Pastors and the Diocesan Women Coordinators, as well as, our predecessors who made great sacrifices to lay this solid foundation on which we are building.
Once more, I congratulate you my graduating students and wish you success in all your future endeavours. Long live the Logiss vision, long lives the Watchman Catholic Charismatic Renewal Movement. TO GOD BE THE GLORY!!!
Thank you.
Anyanwu Chinwe (Mrs.)
Principal.
Join the LIVE graduation ceremony of the SS3 students of Logos International Secondary School.
👉🏻 https://www.logiss.org/live
👉🏻 https://fb.watch/8o5GtB1cob
Stay tuned on https://www.logiss.org/blog for more event updates.